Policy Achievements
- Strengthening Japan's Commerce based on National Security, while also Dealing with the COVID Emergency
In recent years, it became apparent that Japan has fallen behind other leading countries in the world with regard to maintaining the confidentiality of information in areas where secrecy is critical, especially the area of state-of-the-art military technologies. There are several reasons for this, but if we are to cite the largest one it is that compared to the high level of security employed with regard to sensitive information in the developed countries of Europe and North America, Japan has been more lax in such measures, which made it more difficult to get highly confidential information from such countries for fear of information leaks.Although it is often an overlooked fact, since there is most often a close connection between national security cooperation and economic cooperation, Japan's style of seeking close cooperation in the economic realm alone has actually placed limits on the possibilities for cooperation with countries in the realm of national security.
That is why, in the field of legislation related to national security, I have often been involved in both Defense and Foreign Affairs issues, and I have in fact been appointed and served as Vice-Minister in both of these Ministries. When conferences are to be held with delegations from other countries, I prepare in advance by having materials explaining the relevant situations in Japan or in Asia and have them translated into the other country's language and distributed to their staff in order to deepen everyone's understanding of the background in Japan or the Asian region before they come to the negotiating table.
As a result, such efforts have successfully led to the establishment of agreements including the Agreement between the Government of Japan and the Government of the United Kingdom of Great Britain and Northern Ireland on the Security of Information, Accord entre le Gouvernement du Japon et le Gouvernement de la République Française relatif à la Fourniture Réciproque de Biens et de Services entre les Forces d'auto-défense du Japon et les Forces Armées de la République Française and the Agreement between the Government of Japan and the Government of the Federal Republic of Germany on the Security of Information.
Other efforts have successfully led to joint naval exercises with the French aircraft carrier Charles de Gaulle and Japan's Maritime Self-Defense Force, joint exercises with the British aircraft carrier HMS Queen Elisabeth and the its expedition to Asia Pacific region, while from the perspective of economic national defense, we have continued to promote cooperation and partnerships with many countries. These efforts have helped strengthen Japan's economic presence in the area of international trade.
Among the various frameworks of national security, efforts by leaders and foreign ministers from Japan, the U.S.A., Australia and India have led to the development of the Quadrilateral Security Dialogue (commonly known as Quad) for dialogue on strategic security and economic matters, which is also serving to advance Japan's role on the world stage.
These types of relationships based on mutual trust have also played an important role in advancing measures to counter the COVID-19 pandemic. Rapid sharing of information has been effective in facilitating the availability of vaccines.
With regard to Japan's national security policy, there is often a tendency for discussion to stop in this area, but I am determined to continue my efforts to communicate to our citizens the importance of national security and to work toward the creation of policies that promote our nation's security and prosperity.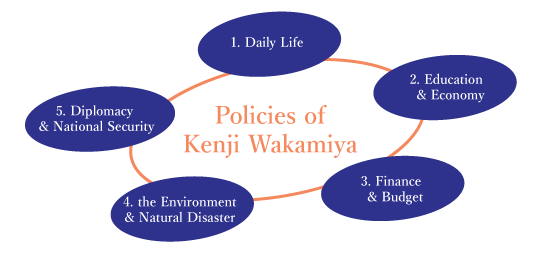 Policies
Security and Safety in People's Daily Lives and Work

1) Concentrating all efforts in dealing with COVID-19

Further increasing the speed of vaccine distribution
Actively promoting budget allocations for prevention of infections
Promoting domestic development of vaccines and special medicines

2) Actively supporting COVID-19 related measures in areas such as travel, dining and retail

Building a society where people can live with assurance and free of the fears of the failure of social security in the era of low birthrate and aging of society
Implementing financial measures with flexibility
Achieving timely allocation of budget without hesitation as needs require

3) Strengthening a social structure where child care is shared by the entire society and relieving the burden of the child-raising generation

Working toward the realization of free education in nursery school and high school
Strengthening maternity leave support and gender equality with the growing role of women in society
Raising the priority of improving the child-care environment as an issue in localities
Promoting barrier-free measures, building an environment easy to live in for all
Ensuring safety in school zones, considering school bus use and improving walkways

4) Realizing a sustainable social security system

Preventing the failure of the social security system in the era of low birthrate and aging society and building a society where people can live with a sense of assurance
Examining and implementing systems that are fair for all generations with regard to pension, healthcare medical cost allotments and burdens

5) Building a digital-based society

Pursuing greater convenience and speed while taking full precautions regarding personal information
Build networks that fully connect local, regional and national government

Promoting economic development based on next-generation education and rewarding work styles

1) Pursuit of varied education systems that foster diverse skills and abilities

Moving forward with a constant recognition of the need for "education that fits the times"
Breaking away from rote memorization-oriented education and promoting education that values the individuality and abilities of each student

2) Fostering independent Japanese individuals who can communicate and prosper internationally

Further expand and spread international diploma programs such as the IB (International Baccalaureate)
Develop an educational environment that develops not only language skills, but also communication skills, acceptance and openness to other cultures, and logical thinking skills

3) Building a world with working environments that lets the younger generation enjoy their lives

Aiming to raise the disposable income of the younger generation, including those in occupations that are essential for daily life
Correcting unfair working conditions and assuring who work in Japan do so in accordance with the law
Promote the development of an environment and culture that encourages business start-ups in Japan, and increase opportunities to take on new challenges

4) Increasing the convenience of life in the society through use of technological advances

Promoting the development and deployment of 5G and 6G. Support local governments developing smart cities
Promoting integration with international financial functions such as blockchain and improving convenience for domestic financial institutions
Maintain and develop competitiveness in advanced fields such as quantum technology, AI, biotechnology, and nanotechnology

5) Developing SMEs and supply chains

Strengthen support for small and medium-sized enterprises (SMEs), which make up 99.7% of all companies, both in institutional aspects and tax-wise
Promote nationalization of supply chains and aim for stable growth and development of small and medium-sized enterprises
Strengthen systems that make business succession and transfer easy to carry out to prevent loss of technology possessed by domestic companies

6) Actively supporting attainment of SDGs (Sustainable Development Goals)

Work together as a nation towards the Sustainable Development Goals
Promote the popularization of electric vehicles (EVs) and hydrogen fuel cell vehicles (FCVs)
Aim to further reduce greenhouse gas emissions
In order to reduce reliance on nuclear power for domestic electricity in the future, explore and work on sustainable power generation methods

7) Protection of intellectual property and technologies

Implement the same levels of protection of intellectual property as the global standards in order to maintain competitiveness in cutting-edge fields
Increase R&D investment and improve working conditions for Japanese researchers

8) Promoting appealing urban development with local flavor

Promote revitalization of local communities that creates new jobs and economic development
Improve administrative efficiency and convenience with smart city and compact city development (selection and concentration)
Focus efforts on inbound tourism and enhance wide-area tourism, and promote their appeal overseas

Efficient budgeting with an emphasis on the workplace

1) Aiming to break out of vertically structured administration by government offices in the various fields

Make efforts to consolidate and simplify forms such as resident tax, property tax, and city planning tax that are different for each local government
Work to encourage collaboration between local governments and private companies to inspire inventive ideas and energetic programs
Aim to realize both administrative and financial reforms and efficient budget allocation to cut waste in administrative operations
Actively invest the necessary budget in areas where needed to improve work environments exhausted by lack of personnel

2) Alleviate cross-ministerial issues by improving mobility of human resources, including through public-private sector tie-ups to strengthen response effectiveness

Increase the freedom in personnel exchange between the private sector and government offices, and systematically enhance "revolving door" systems
Promote the re-employment of people with skills and expand the active participation of women and the elderly to help increase diversity in human resources and strengthen ability to respond to issues

Preparing for Natural Disasters and Protecting the Environment

1) Preparedness for Natural Disasters

Strengthen measures for advance disaster prevention and mitigation in order to minimize disaster damage such as earthquakes directly striking the Tokyo Metropolitan Area and huge tsunamis
Expansion of earthquake-resistant infrastructure such as houses and other buildings, bridges, roads, and levees
Promote infrastructure development such as river control measures, flood control functions, and levee reinforcement, In order to deal with flooding and flood damage caused by torrential rains
Take measures to improve drainage functions such as underground reservoirs and improve administrative response in the event of emergencies as measures to deal with flooding in urban areas
Develop stricter standards for development permits and ground banking in areas with high levels of landslide warning

2) Promoting effective use of natural resources and social budgets, and tackling global environmental issues

Actively conserve and utilize the benefits of nature, such as water resource control, soil conservation, moisturizing, CO2 absorption, noise prevention, and wind proofing
Place increased importance on global concern for eliminating plastic use and carbon-dioxide emissions, and support companies and people who are working on environmental issues in light of the burden on daily life and industry in Japan

Stability and development in a free and open Indo-Asia-Pacific Region

1) Respect and Trust

Promote strategies for making Japan one of the safest countries in the world
Working to build a foundation for peace and security, including in economic aspects, by utilizing the new frameworks befitting the contemporary world order, such as Quad (Japan, the United States, Australia, India), ASEAN, RCEP, TPP, FTA, and others

2) Strategies for making Japan one of the safest countries in the world

Defense Measures for in light of Confrontation between Democracies and Despotic States

Resolutely respond to the use of force to cause changes in the status quo, such as maritime expansion
Respond in cooperation with the international community to measures by China, such as its Coast Guard Law, export control laws and other examples that do not conform to international standards
Peace and stability in the Taiwan Strait are crucial to Japan and we will work with the international community to address attempts to escalate tensions un this area

Strengthening appropriate defense capabilities to deal with any situation that may arise

Build cross-domain and multidimensional integrated defense capabilities and create a system to prepare for and respond to all potential crises (in areas such as land, sea, air, and space, cyber terrorism, electromagnetic wave attacks, etc.)
Through participation projects aimed at technological innovation such as the International Linear Collider Project, and by promoting research and development in your own country, we will work to avoid falling behind in military technology
Promote domestic research and development to promote preparedness for drone risks and equip security organizations with anti-drone capabilities

Strengthening cooperation and alliances, including military exercises, with friendly countries sharing the same values

Through close tie-ups with other countries in capacity-building support projects, conducting joint exercises/training between our Self-Defense Forces and the militaries of other countries (bilateral and multilateral), and promoting sharing of equipment, etc., we will work to prevent emergencies

Establishing appropriate rules of conduct in areas without existing international rules

Actively intervene in outer space as well from the perspective of security issues

Responding to new needs for "defense capability" to protect our economic security

Promote the construction of domestic supply chains and create an economic security that does not rely excessively on foreign capital
Create systems that can sufficiently secure domestic resources such as energy, food, water, etc., in preparation for emergencies
Placing top priority on the expansion of the free trade framework for revitalizing the economy in Japan

Building on and strengthening systems that promote safety and security for the future based on the groundwork established for the 2020 Tokyo Olympics and Paralympics

Upgrade security measures, build response capabilities for drone and cyber attacks, and foster education of the related human resources
In order to strengthen anti-terrorism capabilities and prevent the proliferation of weapons of mass destruction, we will implement cross-ministerial trade control measures and prevent acquisition of domestic companies, assets, and national land by overseas companies
We will urgently pursue the creation of an intelligence agency that can respond rapidly to issues in the international community